Heaton Erecting, Inc - Lifting Customer Service to New Heights
Our inventory of cranes and lifting equipment is recognized in the Atlanta construction industry as the leader in quality, reliability, and performance. We have the equipment to meet your lifting needs, including all the necessary support items such as rigging, personnel baskets, spreader beams, and forklifts. We strive to provide our customers with everything they need to successfully complete their projects, and if we do not have a specific piece of equipment, we will work diligently to get it for you. Our personnel is fully trained and certified in rigging and we can provide a certified signalperson in compliance with OSHA if needed for your project. 
Please click here for a printable listing of Heaton Erecting equipment > 
TRANSPORTATION
We provide a full fleet of trucking and transportation support equipment to assist our customers with their logistic needs. Our tractors and trailers can provide delivery of your equipment to the jobsite, as well as aid in mobilizing your projects.


STORAGE
We have a three acre open storage yard at our Forest Park facility that is utilized by our customers for their temporary and long term equipment storage. Covered storage is also available. We are able to accept receipt of your project materials and equipment prior to the start of a job, unload and store at our facility, and deliver to your preferred location when needed.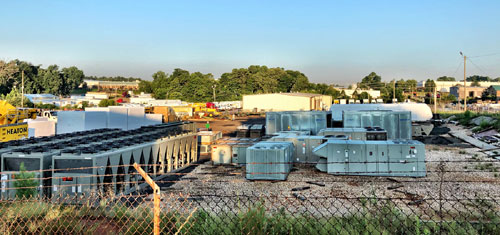 Providing crane service to the Georgia construction industry for over 50 years